Should you use office furniture made from Vietnam plywood?
17/12/2021
Administrator
518
Office furniture today is used with a lot of different materials such as natural wood, plywood, plastic, steel ... Each type of material has different advantages and disadvantages, so should you use office furniture as office furniture? from Vietnam plywood or not? Let's find out with LongDat Corp through the following article!
1. What is office furniture?
Office furniture is furniture products such as cabinets, tables and chairs, shelves, support frames ... used in offices such as companies, establishments, businesses...
Or you can understand more simply, office furniture is the furniture in the workspace of the company, business ...
2. What is Vietnam plywood?
Vietnam plywood is a type of wood made up of many thin, similar sized boards that are stacked and bonded with a special specialized glue, made in Vietnam.
3. Should you use office furniture made from Vietnam plywood?
Among the materials used for office furniture, plywood is preferred and is very popular, so let's find out with LongDat Corp about the advantages and disadvantages of laminated wood in office furniture to explain. the above!
3.1 Advantages of office furniture made from Vietnam plywood
Office furniture made from Vietnam plywood will have the following advantages:
- High durability: If you use and maintain Vietnam plywood properly, the durability of the material will be no less than that of natural wood boards. Wooden floors, wooden cabinets or any product line made from plywood are not warped, termite like natural wood. The surface of the plywood is also carefully treated to reduce the risk of scratches.
- The surface is well resistant to external conditions: The surface material of Vietnamese industrial plywood is very well treated, so at first sight, customers always have a good impression. Besides, the seamless surface of the faceboard makes it resistant to scratches and difficult to clean. The surface of Vietnamese industrial plywood is continuously shaped, suitable for UV, PU, ... depending on customer requirements.
- Competitive price: Industrial plywood is much cheaper than natural wood materials. The use of this material will certainly help users save a lot of money but still achieve the intended use for different applications in many fields.
- Simple construction and installation: Plywood products are easy to process and install. The uniform hardness and flexible size make plywood simple in handling materials, as well as in the construction and installation process.
- Good heat resistance: Vietnam's plywood production process includes high temperature molding. That is why it is heat resistant up to 150 degrees Celsius. Thanks to its good heat resistance, plywood becomes safer during use or in case of fire without deformation.
- Unaffected by chemicals: Plywood is produced through a high heat pressing process. When it returns to normal temperature, the plywood will have a very strong and durable bond. Thanks to this association, normal chemicals will not be able to penetrate deeply and affect the texture of the product.
3.2 Disadvantages of office furniture made from Vietnam plywood
Office furniture made from Vietnam plywood will have some disadvantages as follows:
- Cannot be repaired in some cases: This is a drawback that customers need to be aware of. Products made of plywood, when blistered or broken, you cannot repair.
- Hard to repair scratches: If the surface of furniture made from Vietnamese plywood appears scratches, it is almost impossible to repair. In addition, if plywood is exposed to too much water, it will quickly degrade and peel off the surface of the product.
=> Conclusion: Based on the above advantages of Vietnamese plywood in the field of office furniture production, Long Dat Corp recommends you to decide according to your actual use needs. If you want to show a modern and sophisticated look but still have a cheap price, you should use plywood, but if you need luxury, class and require more durability without regard to cost, then you should use plywood. natural wood should be used.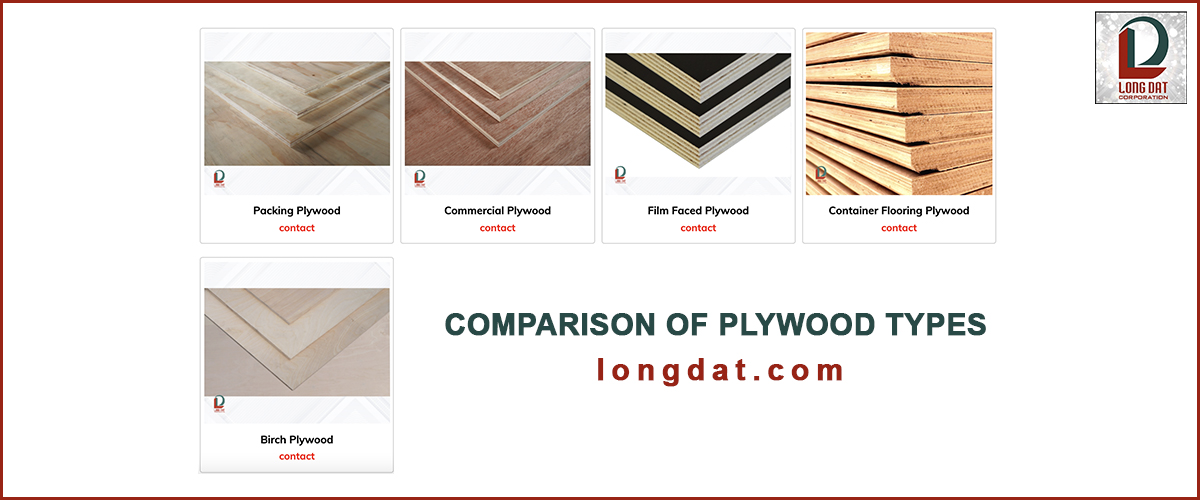 4. See some types of plywood at LongDat Corp
Currently, there are 5 types of plywood commonly used on the market, including the following:
4.1 Packing plywood
Packing plywood is a cheap plywood commonly used in packaging fragile products to facilitate transportation. More specifically, Packaging Plywood can be used as packaging for fragile goods, high-value goods when transported.
The surface of plywood is usually made of high-economical softwoods, especially low-cost plywood is used for packaging.
Depending on your indoor or outdoor needs, there are suitable glues for this plywood to create optimal durability for cargo containers, helping to reduce costs. In addition, packaging plywood also has many other uses such as being used to make furniture, copha, seat pads...
4.2 Commercial plywood
Commercial plywood is plywood used in packaging, goods and products. With low cost and low cost, it helps to optimize costs for companies who want to replace natural wood.
Plywood products are used in many different industries and fields, used for trade and exported to foreign countries.
4.3 Film faced plywood
Film faced plywood also known as film-coated plywood formwork, film-coated formwork, is made up of many thin layers of wood (usually from 9 to 12 layers), pressed together with specialized glue (Phenolic). , Melamine, ..) water resistant and coated with a film (Dynea, Stora Enso) outside to avoid external impact. The film is a water-resistant Phenolic glue film that helps to create gloss, reduce scratches and protect the board during use.
4.4 Container flooring plywood
Container flooring plywood a type of plywood manufactured from hardwood, the surface of the board is made of oil wood, using water-resistant glue, produced by hydraulic pressing technique at high pressure... Therefore, our Container flooring Longdat is used on most decks for containers, trucks, and trailers that can work in harsh conditions.
4.5 Birch plywood
Birch plywood is plywood covered with a layer of Birch wood (Birch wood or yellow maple is a wood material imported mainly in Europe. The bark is smooth, plastic, white or multi-colored. the wood shows a tone that changes from cream yellow to white gold, has a mass ratio similar to that of oak, has a fine grain.)
Above is all the information to answer the question "should use office furniture made from Vietnamese plywood". LongDat Corp hopes to help you get more useful information to serve the selection of office furniture products suitable for your needs.
You can refer to the list of Vietnam plywood products at website longdat.com or contact us with the following information:
LONG DAT IMPORT EXPORT AND MANUFACTURING JOINT STOCK COMPANY
Address: No. 6/95 Ho Tung Mau Street, Mai Dich Ward, Cau Giay District, Hanoi, Vietnam.
Office : No. 6 Alley 76/8 Duy Tan Street, Cau Giay District, Hanoi, Vietnam
Warehouse: Uy No Ward, Dong Anh District, Hanoi, Vietnam.
Factory: Vo Lao Ward, Thanh Ba District, Phu Tho Province, Vietnam.
Phone: +84.24.3791.6162
Fax: +84.24.3791.6163
Hotline: +84.969.148.148
Website: longdat.com
Email: marketing@longdat.com