Vietnam Plywood size standards
30/07/2022
Administrator
590
As before, Vietnam plywood usually has a common size of 1200 * 2440 mm. However, later on, there were many different plywood sizes to suit each customer's needs.
Depending on the purpose of use, the Vietnnam plywood size is produced for project design, small, medium and large architectural construction, or home furniture.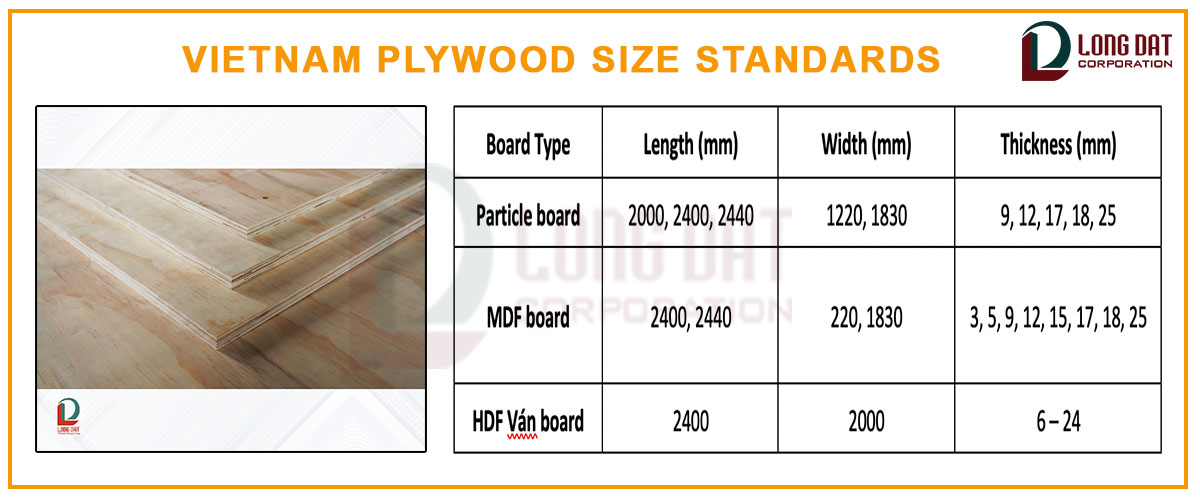 1. Width
The width of plywood is also very diverse in size, usually 120, 1220, 1160, 1000mm or can also be up to 1830, 2000mm.
2. Length
Like the width, the length of plywood types are also quite diverse in size, to suit each type of architecture and each specific use. The most popular and common length plywood sizes are still 2000, 2400, 2440mm.
3. Thickness
- Depending on the type and characteristics of the board such as moisture-proof board or fireproof board...
- Particle board has a very diverse thickness that is 9, 12, 18, 25, 33mm,,….
- HDF boards and MDF boards are divided into 3 types: high-thickness boards (24, 25, 30, 32mm), medium-thickness boards (from 12mm to less than 24mm) and low-thickness boards (2.5; 2.7). ; 3; 3.2; 3.6; 4; 4.5mm,... )
4. Full plywood size table
| | | | |
| --- | --- | --- | --- |
| Board Type | Length (mm) | Width (mm) | Thickness (mm) |
| Particle board | 2000, 2400, 2440 | 1220, 1830 | 9, 12, 17, 18, 25 |
| MDF board | 2400, 2440 | 220, 1830 | 3, 5, 9, 12, 15, 17, 18, 25 |
| HDF Ván board | 2400 | 2000 | 6 – 24 |